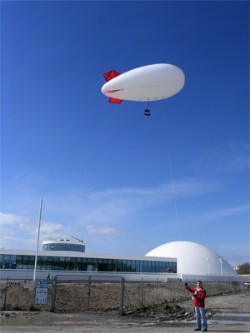 The only way to do this job was with the help of a helium balloon and one of our systems for remote-controlled aerial photography, since the Center is located in the town of Avilés city. A plane can only fly over populated areas at a height of 500 m, too much distance to get photos with the required details.

These spectacular aerial photographs were taken with a tethered balloon of 3.6 m (which only takes 3 m3 of helium in its interior).

We would like to thank you very much Julio for trusting in us and congratulations to all avilesino by the Niemeyer Cultural Centre, which will be shortly inaugurated.