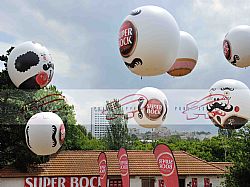 These large inflatable balloons 3 and 4 m in diameter, decorated with full digital printing (Super Bock beer), became, immediately, an attention getter.

After the nightfall, the balloons completely illuminated, produced a truly spectacular effect.

Thanks again to Cidade Impar and Super Bock for giving us the opportunity to make these spectacular promotion inflatables.