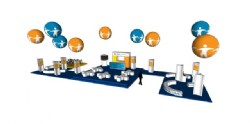 The inflatable spheres would take painting in all his surface, in addition, it was important that the consumption of helium was not very high; for these two reasons, it was fundamental to produce the balls in polyurethane.

Don"t you find spectacular the combination of several helium balloons in different colors?

From here, we would like to show our gratefullness to Joao for the confidence deposited in us.