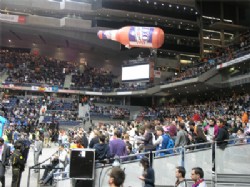 The Palacio de los Deportes Madrid welcomed a new edition of the Copa del Rey de Basket. San Miguel, one of the main sponsors of the event ordered the flight of the dirigible to Publi-zeppelines. So, everyone at the Palacio de los Deportes enjoyed the flight of this rc inflatable balloon directed by remote control.
Thanks to San Miguel, to Media Sports Marketing and to all the ACB staff for making us feeling so confortable.
Congratulations to Regal FC Barcelona, which won the final to Real Madrid.